HCP-MV Applauds the Trumbull County Commissioners for Taking the First Step towards Becoming an Official Member of WRTA
The Western Reserve Transit Authority, more commonly known as WRTA, is about to celebrate its 50th birthday next year. But, the party has already started.
Just during the summer months this year, WRTA has been gifted nearly $2.6 million for transportation improvement projects to benefit the region, recognized by the Ohio Department of Transportation Division of Opportunity, Diversity and Inclusion as Transit System of the Year, and showered with community support. More information about these gifts will be shared below.
Public transportation is often simultaneously highlighted as a community's greatest asset and one of its most significant challenges. Numerous studies report that investment in public transportation can result in significant benefits to local economies, the environment, individual health, and the sum of all of these parts adds up to a vibrant, welcoming community. As stated in a report published by the Health Foundation, "Transport[ation] is not an end itself but rather a means allowing people to access what they need: jobs, markets and goods, social institutions, education and a full range of other services contributing to healthy fulfilled lives." 
According to data compiled by Youngstown State University's Center for Urban and Regional Studies, 8.5% of households in Mahoning County are without regular vehicle access; in Trumbull County, 7.5% of households are without regular vehicle access. The most recent Mahoning and Trumbull Community Health Needs Assessments back this up: In Mahoning County, 8% of adults report having an issue with transportation, that number jumps to 21% among African American adults; In Trumbull County, 13% of adults report having an issue with transportation, and again, that number increases to 21% among African American adults.
These percentages equate to thousands of individuals who face challenges, every day, to get where they need to go. This would be a significant challenge to address transportation needs in just one of the counties, but WRTA accepted the daunting task to provide reliable, quality, transportation for the Mahoning Valley as a region.
Although WRTA kicked off six new fixed routes in March and a brand new express route to Lordstown in August—a dramatic expansion from the single Warren Express fixed route—to better serve Warren and Trumbull County, Trumbull County has not been an "official member" of the agency. The distance between the county and the transit authority has been an ongoing issue that many local leaders have been working to overcome for years.
Keeping with the theme of 2020—to expect the unexpected—WRTA has managed to reach an unexpected milestone through the consistent and courageous collaborative leadership between Dean Harris, WRTA's Executive Director, and Michael Salamone, Trumbull County's Transit Administrator.
As of August 19, 2020, the Trumbull County Commissioners voted to "authorize legal teams from the county and the Western Reserve Transit Authority to gather information and outline the next steps that need to be taken to allow the county to become a full member of the public transit system." This action is a significant first step towards bridging that gap, turning the corner, and beginning the next leg of the journey to improve activity and connectivity in the Mahoning Valley.
Many community leaders, advocates, and residents thought this day would never come, but it did. Though this is not the end of the road, it is a point in which we, as a community, should pull over, take a look around, and celebrate how far we've come. And to recognize and applaud the leadership—at many levels—and risks that have been taken over the years to keep pushing forward. The vote to officially join will likely be held before the end of the year, and as Mr. Harris said, the  action will be"'well received' and that the expansion will be 'good for the community.'"
As has already been mentioned, this decision by the Trumbull County Commissioners to begin the process to become a full member of the transit system was the cherry on top of the triple-scoop sundae that WRTA has been enjoying this year. This Moment—well, really Moments—of the Month is one of many mini-miracles that our community has witnessed this year because of WRTA's steadfast commitment to our residents and our region. They certainly have given the Mahoning Valley a lift in these heavy and challenging times.
Keep up with WRTA online at www.wrtaonline.com or on Facebook at www.facebook.com/WRTA.OH
WRTA 2020 Headline Timeline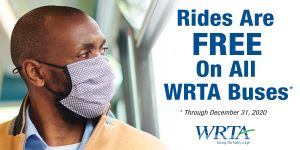 March: WRTA Free Fares
The free fare promotion will be continued until further notice. And while it originally had applied only to fixed route buses, rides will now also be free on WRTA's paratransit services, which include ADA All-Access and Countywide small bus services.
June: WRTA New Bus Stop Signs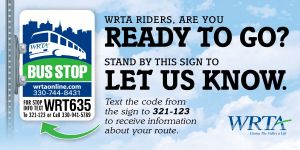 "The bus stop signs are designed to give our riders a clear indication of where they should stand if they want to catch one of our Fixed Route buses," said WRTA Executive Director Dean Harris. "We're encouraging riders to wait by these signs to board the bus. It's a convenience as well as a safety issue."
Bus Stop Sign Commercials: 30-sec | 15-sec A | 15-sec B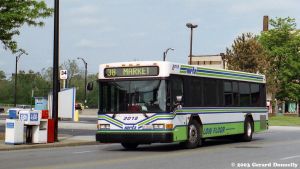 June: Market Street Transit Oriented Development Study
The plan will guide future efforts to enhance economic development and growth in the Market Street Corridor by concentrating real estate development, improving the transit service and making street improvements for bicyclists and pedestrians, according to a news release. Both Youngstown and Boardman Township have invested resources in studying the corridor for development.
June: Transit System of the Year of the Year
"It's a great honor to be recognized for the hard work that our employees do every day to help connect our community together," said WRTA Executive Director Dean Harris. "We will continue to work together to provide an incredible transportation system to the people of the Mahoning Valley."
August: ODOT Grant to Expand Coordinated Transportation
Western Reserve Transit Authority, Trumbull County Transit  and CARTA CAA have each been awarded $17,071 in an Ohio Department of Transportation grant to help expand coordinated transportation in the state.
Funds will be used for a technology and feasibility study to look at the development of a call center that would centralize all transit booking. Transit systems would be able to pool resources reducing the need for redundant technology and staffing. 
August: Trumbull County Commissioners Take First Step to Join WRTA
"One of the things that spoke volumes was that regardless of what happens, you're still going to continue with the Warren Express (fixed route) because it is beneficial to Mahoning and Trumbull County. But hopefully, good things will come of it," [Commissioner Dan] Polivka said.
"This is very important for everyone," [Commissioner Frank] Fuda said. "It is very important. We are hoping to get a line out to Lordstown because there are many people who are going to apply for several jobs out there. Many people need that transportation. There are a lot of people who can't afford to buy a car and they need that public transportation to make it work."
[Commissioner Mauro] Cantalamessa said the transit service will help combat food deserts and make it easier to do business in Trumbull County.
"When we talk to our economic development partners and we talk about retention of industry and attracting new industry, a comprehensive transportation system is one of those tools in the tool box we can use to tell companies, 'Look, you can get people to work here, you can get people to and from work that normally couldn't.' So, it makes it a little easier when you're trying to do business in Trumbull County," Cantalamessa said.
August: Outpouring of Community Support
"Because of this, access to transportation is always part of the conversation during our business retention and expansion meetings with company decision makers. In some cases they will be unable to expand or keep their doors open if their workers cannot get to work," [Sarah] Boyarko [from the Youngstown Warren Regional Chamber] said. "A company creates jobs, the jobs are filled by an available workforce. If workers cannot get to work, it is very challenging for the company to succeed. Transportation is important."
[Arnie] Clebone, [Liberty Township trustee], said he too wonders why the WRTA expansion wasn't on the table a "long time ago."
There are people in Mahoning County who need to travel through Trumbull County for work, and people who live in Trumbull County that need to travel to Mahoning County for work, Clebone said.
"This would tie our communities together and create options for more coordination and regionalization," Clebone said.
And, public transit should help reduce traffic and support environmental goals, Clebone said.
August: $2.3 million Grant for Autonomous Shuttle Technology
"WRTA is excited to be receiving this grant award as it will allow us to continue the success of building and testing a new transportation options in Mahoning Valley," said Dean Harris, WRTA's executive director, in a statement. "This grant will allow WRTA to help test an autonomous shuttle in downtown Youngstown to provide safe and convenient service to link local business and connect WRTA's fixed routes to the rest of the Valley."
August: New WRTA Express Route to Lordstown
Starting Monday, August 31, WRTA's new #80 Lordstown Express bus will travel twice daily Monday through Friday to and from PurFoods, located at the corner of Mahoning Avenue and Bailey Road in Lordstown.
The route is expected to be adapted to serve the TJX distribution facility in Lordstown once it begins operations.