HCP-MV Moment of the Month: Building a Healthy Budget
Prioritizing Policies that Put People First
In 2017, Sojourners founder, Jim Wallis, wrote a piece titled "Truth that Bears Repeating: A Budget Is a Moral Document" in response to the cruel budget proposals introduced by the then newly minted Trump administration that suggested shifting billions of dollars from critical anti-poverty and social support programs to military/defense initiatives, specifically the bombastic border wall. A dramatic shifting of resources away from those programs that give and sustain life to those that threaten to destroy or diminish it.
Mr. Wallis opens with this simple, powerful statement and urgent reminder: 
A budget is a moral document.

Any budget is a moral statement of priorities, whether it's a budget created by an individual, a family, a school, a city, or a nation. It tells us, mathematically, what areas, issues, things, or people are most important to the creators of that budget, and which are least important.
In a period of history where we have been inundated by stories of destroyed or diminished lives—because of the ongoing COVID-19 pandemic, because of ongoing oppressions like racism, because of ongoing inequitable distribution of resources and power throughout our systems—we need to make sure our budget priorities add up and consider the right things as priorities.
February 1 kicked off Black History Month, American Heart Month, and the beginning of Budget Season in Ohio. Governor Mike DeWine released his executive proposal, known as the Blue Book budget, for 2022-2023. The full executive proposal can be reviewed here: https://budget.ohio.gov/ 
Thankfully, there are people-centered priorities in Governor DeWine's budget proposal like the following provisions highlighted by the Center for Community Solutions and the Greater Ohio Policy Center:
Nearly 71 percent of funding in the Medicaid budget comes from federal dollars. DeWine and Lieutenant Governor Jon Husted highlighted in their budget press conference how enhanced federal Medicaid dollars have been enormously beneficial for the state's finances and have prevented the need to make cuts across the budget.

The executive budget continues to support children in many ways. It includes increased funding in the Ohio Department of Health's (ODH) budget for the Help Me Grow home visiting program; for protecting lead poisoning in children and for infant mortality reduction efforts. In the Ohio Department of Education's budget there is increased funding for the student wellness and success initiative, and across the Ohio Departments of Medicaid, Job and Family Services and Developmental Disabilities' budgets there is funding to address the needs of multi-system youth.

The budget includes support for local health departments to modernize their infrastructure. The pandemic has laid bare many deficiencies, one of which is the data infrastructure of health departments used for critical public health efforts. This includes monitoring and reporting on infectious diseases, and the contact tracing and vaccine distribution required to mitigate those diseases

Overall there is a significant amount of federal funding continuing to flow into multiple state agencies to support the health and economic impact caused by the COVID-19 pandemic. DeWine and Husted noted the state is carefully managing these funds and any one-time dollars will be used for one-time expenses related to the pandemic and its aftermath. (Source: Center for Community Solutions, "Governor DeWine Introduces 2022-23 Executive Budget")

The plan also includes significant funding to enhance Ohio's communities, including $250 million to provide grants to expand broadband access throughout Ohio, ensuring all households have the basic connectivity necessary to support the public's need for education access, work, job training and even healthcare. 

Finally, the plan also would invest $200 million to provide grants to pay for community infrastructure projects. This would happen in the form of $2 million grants for smaller communities (those with populations between 1,000 and 75,000 and with an annual median household income of less than $50,000 per year) for projects that include water and sewer projects, downtown revitalization, demolition of blighted properties and redevelopment purposes. This would include brownfield remediation projects. (Source: Greater Ohio Policy Center, February 2021 Newsletter)
But, Governor DeWine's budget, as Policy Matters Ohio put it, "fell short" in several critical areas. Before the Blue Book budget was released, Policy Matters shared recommendations for a "Budget for Everyone," which encourages "state lawmakers [to] harness our collective resources to pass a budget that controls the [pandemic], helps all Ohioans meet their basic needs, ensures safe schools and workplaces and lays the groundwork for a better future." Many of these Ohioans-first recommendations were not incorporated, priorities and policies that needed to change remained fixed, and inequity continues to have an outsized impact on our communities—not a great way to encourage people to rush into Ohio.
The 2022-2023 Budget impacts everyone and everything, including each of HCP's focus areas. Below are brief summaries of budget implications on HCP focus areas and Action Team priorities.
Active Transportation
One of the most notable shortcomings of the Governor's 2022-2023 Budget is the significant reduction in funding for public transit—reduced 90% from $70 million in state support each year in the 2020-2021 budget to $7 million in state support for 2022-2023. 
In Ohio, transportation is funded first in legislation (HB 74) separate from the rest of the budget that must be wrapped up before the end of March. So, members of HCP and the statewide coalition MOVE Ohio hit the ground running to make a compelling case for public transit. On March 4, the Ohio House of Representatives passed their version of the budget that included a total of $193.7 million in state and federal support for public transit, which is double what Governor DeWine proposed in his budget, which proposed $94.6 million (state and federal support) for transit over the two year period. Of this total, only $56 million annually is tied to state support, which is $14 million less than the $70 million included in the last budget. 
Just before the vote, HCP members from the Active Transportation Action Team sent letters to local legislators encouraging them to support more resources for public transit systems like Western Reserve Transit Authority. Here is an excerpt from the letter citing the positive impact the increased funding from 2020-2021 has had in the Mahoning Valley:
In the Mahoning Valley, these funds have been used efficiently and effectively by the Western Reserve Transit Authority (WRTA) to significantly expand its footprint and become a true regional transportation agency. Partnership members and community partners understand that resources are finite so it is in everyone's best interest to use them as intentionally and impactfully as possible.

In 2020-21, WRTA secured over $2 million in state resources, which enabled the agency to add six new fixed routes in the City of Warren and Paratransit trips throughout Trumbull County, creating better connections throughout the region. Additionally, WRTA was also able to add a new express route, which provides service to large employers like Pur Foods and the soon-to-be-open TJX warehouse facility in the Lordstown and North Jackson area. These state funds also provided WRTA with leverage to secure over $2 million dollars of additional federal funding. Investment in these new routes and enhanced services benefits the Mahoning Valley as a region by offering more consistent, comprehensive connections to economic opportunity for employers and employees, alike. 

Without sustained support, these improvements will be rolled back, leaving residents and the region stranded, just out of reach of opportunity and prosperity.

The funding from the last budget has allowed WRTA to dramatically change the way the Mahoning Valley values and understands the essential role public transit plays in its success. Public transit service providers, like WRTA, connect workers to jobs, students to education, expecting mothers to prenatal care, and consumers to retailers. Without continued consistent investment from the state of Ohio in public transit, economic development in all areas of the state will suffer. Our economy, schools, health and social structures all ride on the fate of our transit systems.
The next step for the transportation budget's fate is to shift debate over to the Ohio Senate. Members of HCP's Active Transportation Team and the MOVE Ohio coalition will continue to monitor the journey towards arriving at a new biennium transportation budget.
Parks and Greenspaces
Back to Governor DeWine's Blue Book budget, there are several opportunities for engagement during the budget process that touch the other focus areas of HCP as well. 
As mentioned, one HCP-connected budget bright spot is the Governor's proposal, as lifted up by the Greater Ohio Policy Center, is to "invest $200 million to provide grants to pay for community infrastructure projects. This would happen in the form of $2 million grants for smaller communities (those with populations between 1,000 and 75,000 and with an annual median household income of less than $50,000 per year) for projects that include water and sewer projects, downtown revitalization, demolition of blighted properties and redevelopment purposes. This would include brownfield remediation projects." Members of the HCP Parks and Greenspaces Action Team members are eagerly monitoring this proposal.
Mahoning and Trumbull Counties both have Land Reutilization Corporations, more commonly known as the Mahoning County Land Bank and Trumbull County Land Bank, that have successfully used millions of dollars from the U.S. Department of the Treasury through the Hardest Hit Fund program that were reappropriated and distributed as the Neighborhood Initiative Program (NIP). These funds administered between 2014-2019 through the Ohio Housing Finance Agency allowed county land banks "to stabilize property values by removing and greening vacant and blighted properties in targeted areas in an effort to prevent future foreclosures for existing homeowners." 
This year, our county land banks are celebrating their 10th anniversaries. With a successful track record of being good stewards of precious public resources—land and dollars alike—additional support from the state would allow these HCP partners to nurture, grow, and reap the benefits of the seeds that they have been able to plant over the years. 
Healthy Food Retail
Lastly, our HCP Healthy Food Retail Action Team is re-engaging with a statewide partner, Produce Perks Midwest, to take another bite at the apple in support of nutrition incentive programming. In 2019, during the 2020-2021 Budget cycle, HCP Healthy Food Retail Action Team members participated Produce Perks Midwest's Statehouse Day and approved a proposal to provide financial support to their advocacy efforts related to two legislative asks: State support for nutrition incentives and fruit and vegetable prescription vouchers, which has been a successful strategy to improve infant and maternal vitality. This year, HCP Healthy Food Retail Action Team members are energized and excited to continue to be involved in advocacy efforts that will result in more residents in the Mahoning Valley accessing healthy, affordable foods. As communities continue to recover from the ripple effects of the pandemic, food access remains a top priority, and so too should programs like this.
The 2019 campaign resulted in annual allocations of $175,000 for the nutrition prescription program and $250,000 allocated for nutrition incentives. For 2022-2023, Produce Perks Midwest, along with partners like the American Heart Association, American Diabetes Association, Ohio Grocers Association, and the Ohio Nutrition Incentive Network, are doubling down on the successful outcomes born from resources acquired in the last budget cycle. This increase in resources will also enable Produce Perks Midwest and its partners to meet the growing need to increase accessibility and affordability of healthy food in Ohio communities because of barriers, both old and new. Here are brief descriptions of the proposed items for the 2022-2023 budget:
Increased funding for the SNAP Double-Up Program (Produce Perks) $500,000 annually. In addition to being good for families, healthy food incentives are good for farmers and local economies. Families win because their Produce Perks purchasing power doubles when spent on healthy foods, farmers win with new customers and increased sales, and economies thrive when food dollars are kept local. 

Increased funding to the Produce Prescription Program (PRx) $350,000 annually. The PRx program connects patients with diet-related disease (diabetes, obesity, cardiovascular, etc) to providers that write prescriptions for free fruits and vegetables. Patients are screened for food insecurity within their household and providers issue monthly prescriptions to meet the family's recommended daily servings of fruits and vegetables. 
What's Next
The next few months will be busy, busy, busy, and things will move and change fast, fast, fast. The transportation budget (HB 74) must be signed by Governor DeWine by March 31. The rest of the biennium budget must be signed by June 30. For more information about budget process, proposals, timeline, and testimony, there are a couple of trusted resources to breakdown the budget into manageable "bite-sized" pieces for easier interaction and digestion:
Members of HCP will be closely monitoring movement on these items included in the state budget that align with our focus areas and priorities. Community partners and residents are also encouraged to be active in these critical policy discussions. To help us continue to build our toolbox through this budget process and future policy initiatives, HCP created a Policy Tracking Tool to help keep us and our partners connected, effective, and informed.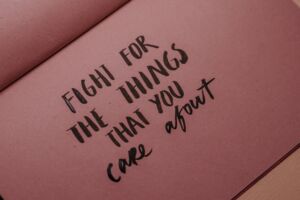 Many of us have likely heard the saying "the personal is political," and the reverse is also a truth to hear and consider, "the political is personal." The decisions made in city halls, township administration buildings, and capitols may be happening miles away from where we live, but the implications always hit close to home. It is to all of our benefits to be active participants in these conversations. Our stories, our lives matter and must be shared. Though we are all different in beautiful, complex ways, so much of what we care about is the same—building a common ground to stand on and play book to act from. Let's come together to make sure our budgets are moral and our policies put people first.