HCP-MV Partner Spotlight: Dawn Turnage, City of Youngstown Parks and Recreation
Promoting, Preserving, and Preparing Our Parks for the Future
For nearly 40 years, the United States has celebrated National Parks and Recreation Month in July. The National Recreation and Parks Association describes the purpose of the month long celebration, which is to:
promote building strong, vibrant and resilient communities through the power of parks and recreation, and to recognize the more than 160,000 full-time park and recreation professionals — along with hundreds of thousands of part-time and seasonal workers and volunteers — that maintain our country's local, state and community parks. 
The Mahoning Valley is fortunate to be the home of Ohio's first park district and one of the largest metroparks in the entire country: Mill Creek MetroParks. Beloved by many, Mill Creek Park is cited by visitors and residents alike as a "gem" or even a "diamond in the rough." 
But, in addition to this well-known destination, the Mahoning Valley has dozens of hidden treasures scattered throughout communities–parks nestled among houses and schools; nature preserves sprawling alongside state highways; and green oasis offering respite from shopping or working until we drop.  
These more modest greenspaces still serve a significant purpose in our region. As former U.S. Secretary of the Interior, Bruce Babbitt, reminds us, "City parks serve, day in and day out, as the primary green spaces for the majority of Americans."
In contrast to the well-known "grand parks," like the aforementioned Mill Creek Park, our smaller city or neighborhood parks are, as Andrew Price writing for StrongTowns describes them in his article "Grand Parks vs. Neighbourhood Parks," our communities' "living rooms"–these are outdoor spaces where we can do our favorite indoor activities like read, work, and gather.
One of the many lessons learned, or relearned, over the last year living through a pandemic is how critical accessible, welcoming, parks and greenspaces are for physical and mental wellbeing.
The National Recreation and Parks Association issued a report, "The Essential Need for Parks", which reports several key findings about the critical role parks played in supporting individuals mental and physical health needs: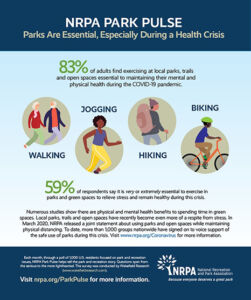 Eighty-three percent of U.S. adults agree that visiting their local parks, trails and open spaces is essential for their mental and physical well-being during the COVID-19 pandemic

Nearly three in five adults say that access to these amenities are very or extremely essential to their mental and physical health

Parents are more likely than nonparents to find parks, trails and open spaces very or extremely essential (68 percent vs 56 percent, respectively)

Millennials and Gen Zers are more likely than Baby Boomers to say it is very or extremely essential to do physical activities at their local parks, trails, and open spaces to maintain their mental and physical health (68 percent and 65 percent vs. 54 percent, respectively)
However, not everyone enjoys the same level of access to welcoming, well-used, well-funded parks to meet their mental and physical health needs. One of the other lessons learned, or relearned, during the pandemic is how social and environmental factors impact our ability to be healthy–what surrounds us, shapes us. Some of these factors that surround us include things like the condition of our neighborhoods; regular access to healthy, affordable foods; reliable consistent transportation options; economic opportunity and mobility; and proximity to parks or greenspaces. And, cutting across and running through all of these factors is the thread of unaddressed racism that has impacted and influenced policies and practices in public and private institutions.
And, a study published in US News & World Report earlier this year revealed that greenspaces were associated with a smaller Black-White gap in coronavirus rates, more specifically parks and forests, especially in urban areas, may help promote racial equity in the fight against COVID-19. This study was conducted by researchers from the University of Illinois Urbana-Champaign, University of Hong Kong and the City University of Hong Kong. Researchers "examined county-level data on coronavirus infections in Black and white people in 135 of the most urban counties in the U.S. from late January to July 10, 2020. Published by the journal Environment International, the study encompassed 40.3% of the U.S. population, and researchers found that the county-level infection rate for Black people was almost twice that of whites, at 988 per 100,000 population versus 497 per 100,000."
William Sullivan, a professor of landscape architecture at the University of Illinois Urbana-Champaign described the results as "striking." "We saw a reduction of about 50%" in the Black-white racial disparity [in counties with the greatest proportion of green space]," Sullivan says.
Neighborhoods with greenspaces enable people to recover from significant stressful experiences much more effectively than neighborhoods lacking such spaces. Part of it is because of the presence of the physical space, but the other component is that greenspaces create opportunities for people to gather, safely: "There's significantly stronger social ties among neighbors. People recover from the stress and strain of mental fatigue [around green spaces]" Sullivan reported.
There are many initiatives and programs that are attempting to create more intentionally inclusive policies and practices that protect and promote local parks. Three examples are the Park Rx program, the 10 Minute Walk framework, and the Safe Routes' to Parks program. All three of these initiatives seek to shift resources to make sure that parks are welcoming, well-used, and well-funded. 
So, in short, parks–grand parks and neighborhood parks alike–are important. And so, too are the people who care about them.
This month our spotlight shines on one of our partners who cares as deeply about parks as she does about people who care about parks. Dawn Turnage, the City of Youngstown's Director of Parks and Recreation, started her role as Director and CPO–Chief Parks Officer–in early 2018. And in that short time, she's brought so much life, light, and excitement for outdoor spaces to our community.
From planning parties, to interacting with elected officials, to helping with pandemic public health outreach efforts, to training lifeguards, to rallying volunteers, Ms. Turnage does it all. And always with a smile.
Serving her community is nothing new for Ms. Turnage has 20 years of public service experience working with diverse populations in the areas of social services, criminal justice, and public service. Her passion, combined with her previous experience working with The City of Westerville Parks and Recreation, afforded her the opportunity to be appointed by Mayor Jamael Tito Brown as the Director of Parks of Recreation for the City of Youngstown, and to return home to where she was born and raised, graduating from Cardinal Mooney High School in 1988. 
Ms. Turnage is one of eighteen African-American female parks and recreation directors across the United States, and she is a member of the Steering Committee of the Healthy Community Partnership of the Mahoning Valley (HCP-MV), the Ohio Parks and Recreation Association (ORPA),  the National Recreation and Park Association (NRPA), and the Mahoning County Children First Council (MCFCF), She is also an active member of the Alpha Kappa Alpha Sorority–Epsilon Mu Omega Graduate Chapter.  
Earlier this year, Ms. Turnage was a guest author in Plan It Wild to celebrate both Black History Month and International Women's Day to share her unique experience as one of only eighteen African-American female parks and recreation directors in the country. In the article, Ms. Turnage comments on the critical role that parks play in building healthy, vibrant, equitable communities:
Parks continue to emerge as an important public health solution in urban communities. To bridge the inequality gap, it is imperative that urban forest and green space accessibility are seen as essential to all communities, as they provide a nature-focused experience that supports healthy living.
Youngstown is lucky to have such a rare, unique gem like Ms. Turnage here in our community, and not just for Youngstown but the entire Mahoning Valley. Throughout her career, Ms. Turnage has walked the walk and has encouraged others to join her along the way. Her passion and enthusiasm for parks and the people who use them is obvious in everything she does. She embodies the advice shared by Canadian academic, science broadcaster and environmental activist, David Suzuki, who reminds us that: 
Nature surrounds us, from parks and backyards to streets and alleyways. Next time you go out for a walk, tread gently and remember that we are both inhabitants and stewards of nature in our neighborhoods
When we invest in, show up for, and support our parks, we are investing in, showing up for, and supporting each other. 
In her own words, here are Ms. Turnage's reflections about the importance of protecting, preserving, and promoting parks and partnerships to create healthier, more equitable, active communities.
Dawn Turnage, Director, City of Youngstown Department of Parks and Recreation