HCP Signs on to Regional Recognition of HOPE Week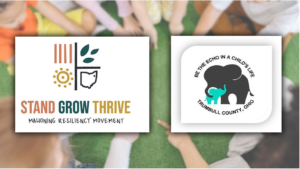 YOUNGSTOWN, Ohio — Trauma-informed care coalitions in the Mahoning Valley are joining together to recognize and celebrate the Week of HOPE from March 7 to 11.
Stand Grow Thrive: Mahoning Resiliency Movement and the Trumbull County Trauma Informed Care Steering Committee are celebrating the Week of HOPE (Healthy Outcomes from Positive Experiences) Movement, which "represents a paradigm shift in how we see and talk about the positive experiences that support children's growth and development into healthy, resilient adults," according to a press release.
The national movement is supported by families, scientists, nonprofits, research centers and institutes, universities and government agencies to raise awareness about the significance of positive childhood experiences in child, youth, and family services and supports, research and policymaking, according to the release. This is the first year the Mahoning Valley is taking part in the Week of HOPE.
"Recognition is taking many forms, including local communities, coalitions and organizations issuing proclamations and public commitments to HOPE as a way to increase the power of hope throughout our bi-county region," the release states. "Lifting up ongoing activities, events and initiatives on social media is another way partners want to celebrate the week of HOPE in an effort to make the public more aware of hope-centered, trauma informed initiatives being offered."
Information will be shared at the Trumbull County Resiliency Initiative section on the Paces Connection website, as well as the Family & Children First Council of Trumbull County Facebook page.
Communities and public bodies in Mahoning County that have passed proclamations include:
Mahoning County Commissioners
Mahoning County Mental Health & Recovery Board
Mahoning County Board of Developmental Disabilities
Mahoning County Family and Children First Council
City of Struthers
City of Campbell
City of Sebring
Boardman Township
Coitsville Township
Struthers City School District
Others supporting the Week of HOPE include Youngstown City council members Julius T. Oliver, Mike Ray, Lauren McNally, Anita Davis and Basia Adamczak, Mahoning County Public Health, Akron Children's Hospital-Mahoning Valley, Stand Grow Thrive: Mahoning Resiliency Movement, Help Network of Northeast Ohio, Youngstown PFLAG, Belmont Pines, Alta Care Group, Inc., Healthy Community Partnership-Mahoning Valley, Poland McKinley Elementary School, Jackson-Milton Local Schools, Campbell City Schools, Canfield Local Schools, Broadway Recovery Services, Urban Labyrinth Project and Ursuline Sisters Mission.