CFMV/HCP Hires Network Coordinator, Robin Perry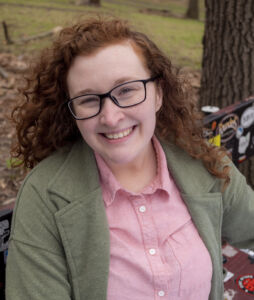 Community Foundation of the Mahoning Valley and Healthy Community Partnership Hire New Network Coordinator, Robin Perry
YOUNGSTOWN/WARREN, Ohio–The Healthy Community Partnership and Community Foundation of the Mahoning Valley has hired Robin Perry, the Foundation's fourth hire in the past year as it works to expand its capacity to support the Partnership's operations and outreach into the community. Robin will be the second staff person providing support for the Partnership initiative.
As the Partnership's Network Coordinator, Robin is responsible for engaging Partnership members, providing guidance on project and policy priorities, evaluating progress and sharing success stories.
"The Healthy Community Partnership is thrilled that Robin will be continuing to support our partners and the community to fulfill our mission to improve health, wellbeing and health equity in Mahoning and Trumbull Counties in this new role," said Sarah Lowry, Director of the Partnership. "Their work over the past two years as an AmeriCorps VISTA has been incredibly valuable to build communications tools and practices that ensure the Partners' work and impact can be shared and celebrated. We're excited for this new part of the journey to becoming a healthier, more equitable community."
In response to transitioning into their new role, Robin adds: "I am very excited to start the network coordinator position and begin to work more directly with many of the people I've only seen through my computer screen. To me this is the best outcome I could have hoped for at the end of my AmeriCorps service."
Robin was born and raised in Parma, Ohio. They received a Bachelor's degree in Political Science from the College of Wooster in 2020 and will graduate from the University of Nebraska with a master's degree in Public Health fall of 2023. After graduating with their bachelor's degree, they worked over the summer at the Cleveland Zoological Society as a Member and Donor Services Representative. In 2020, Robin joined AmeriCorps, accepting the position as VISTA Communications Coordinator at the Healthy Community Partnership and has held that position for 2 years. Their AmeriCorps experience helped cement a desire to pursue community health advocacy as a career. 
Robin is excited to start their new position as the Network Coordinator at the Healthy Community Partnership and plans to relocate to Youngstown. In their free time Robin volunteers remotely for Camp Lilac, an Ohio summer camp for transgender youth, at which they help plan their year round social media calendar. They also enjoy spending time with family, especially their niece and nephew, and working on punch needle embroidery projects. 
The Healthy Community Partnership of the Mahoning Valley is bringing together organizations and individuals who share a commitment to a healthier, more equitable Mahoning Valley and improving health, wellbeing, and health equity for residents in Mahoning and Trumbull Counties. There are three focus areas through which the Partnership is developing strategies to achieve long-term, sustainable change: Healthy Food Retail, Active Transportation, and Parks and Green Spaces. The generosity of the following funding partners support the efforts of the Partnership: Community Foundation of the Mahoning Valley, Western Reserve Health Foundation, the Trumbull Memorial Health Foundation, the William Swanston Charitable Fund, and the Mercy Health Foundation Mahoning Valley.
###