HCP Partner Spotlight: Dalton Campana, Community Recreation Graduate Associate and Ryan McNicholas, Director of Campus Recreation at YSU
Recently a new team was created as a result of months of effort on the Parks and Green Spaces team and the hiring of a new Graduate Associate who will work with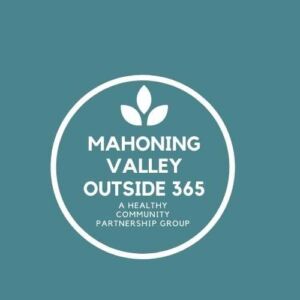 YSU and the Parks and Green Spaces team. This story and celebration begins with a Parks and Green Spaces project called Mahoning Valley Outside 365. Mahoning Valley Outside 365 is a campaign that is building awareness of parks and green spaces in our communities by sharing information and opportunities and activities available and by challenging residents to go explore new parks or green spaces near their neighborhoods. Ryan McNicholas, Director of Campus Recreation at YSU and PGS team member, has been leading this project since the early days of the COVID-19 Pandemic and hopes that it will encourage local residents to use existing parks and green spaces year round for recreation. He felt this was especially important in those early days of the Pandemic as most of us were spending the majority of our time inside our homes making promoting and protecting outdoor spaces for physical activity more important than ever, especially with many spaces for indoor recreation closed to the public or seen as more risky than indoor ones. 
As the campaign grew and its efforts continued the team working on Mahoning Valley Outside 365 recognized a need for added capacity to help the Park and Green Spaces Action team further this work beyond the scope of what they were currently capable of alone. The PGS action team decided to create a position for a Graduate Assistant jointly with YSU. This would allow them to have even more programming, activities, and promotion at local parks beyond what they were currently able to do. After months of working on the position description and application questions in August of 2022 several potential candidates were interviewed for the position. Of all the excellent potential candidates Dalton Campana was selected for the position. 
Partner Spotlight Interview with Ryan and Dalton
We talked to Dalton and his Supervisor, Ryan McNicholas when Dalton first started in September about his hiring and what he hopes to accomplish. Dalton was excited to bring his unique skill set to the community to help improve community health. Dalton is also a personal trainer at YSU and has a background in Environmental Science and wants to use his background to hold educational programs for the community focused on creating a healthy community and a healthy environment for that community to live in. Especially getting the community involved in aspects of wellness that they do not have previous experience in that Dalton will be advocating for. 
Dalton is currently working on several events to take place at Parks across the Mahoning Valley. While dates have not been finalized for all programming it will include a Walk in Wick park and Clean Up Day in November, a Selfie Station Event in Perkins Park in Warren after the new year, a fitness Seminar in Wick park, and MUCH more over the coming months. We at the partnership look forward to seeing what Dalton is able to do in the position and appreciate the continued updates he gives. Look out on social media for updates on upcoming events, activities, and more!