HCP-MV Responds to COVID-19 Crisis
March 2020 came in and left like a very angry lion. Causing tremendous amounts of upheaval, chaos, and fear in the process. Everyone is adjusting to living in the "new normal" because of COVID-19, which has diverted businesses, non-profits, governments, and residents from their plans and piled on more stress than we're used to shouldering. 
Partners of the Healthy Community Partnership-Mahoning Valley (HCP-MV) immediately sprung into action responding to the crisis by providing support and service to each other and those in our communities that most need it. We've been doing our best to respond and continue to look for ways that HCP-MV partners and our network can, as Mr. Rogers instructed us, look for and help the helpers. We've identified three areas in which HCP-MV can help, which are:
Contribute to the creation and sharing of trusted information

Identify areas that partners can support partners in direct response efforts and recording/reporting these stories

Collaborate on advocacy efforts aligned with HCP-MV's mission and focus areas 
This first area resulted in the creation of the HCP-MV Health & Wellness Resource Guide, which is a collection of informational materials specific to HCP-MV's mission and focus areas that advocate for equitable access to healthy foods and physical activity. Through this effort, HCP-MV is also a contributor to Mahoning Valley Together, which is a website that provides comprehensive resources and information to help residents respond to and recover from the dramatic changes brought about because of the COVID-19 pandemic.
Using our relationships and resources to collect and share valuable, trusted information to the community is only one of many ways HCP-MV is trying to support one another and our communities during these uncertain, unstable times.
Access to food and safe, outdoor spaces for physical activity have become even more critical for our health and well-being. HCP-MV created fast fact  "postcards" that can be shared for quick bite-sized pieces of information related to food access and safe, outdoor activities for mental health and physical health.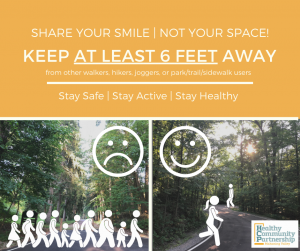 Parks and outdoor public spaces have become lifelines to keep ourselves healthy and to maintain some kind of contact, albeit while continuing to practice physical distancing, with other people. This inspired members of HCP-MV to launch a campaign that promotes COVID-19-approved safe, outdoor activity: "Share Your Smile, Not Your Space!" Residents will be encouraged to go outside to capture and share photos and their smiles by posting on social media with the tag #shareyoursmile. Similarly, Walk Youngstown has posed a similar challenge to the community encouraging residents to share photos and videos of walks in neighborhoods, parks, or wooded trails.
Second, HCP-MV members have had ongoing weekly conversations about how to work together and share resources to support each other in direct service efforts. So many of the partners in the HCP-MV network have organized new or adapted existing programs to respond to the dramatically increased need in our neighborhoods for access to healthy foods. This was a significant concern before and has been amplified significantly since many residents find themselves facing additional challenges due to school closures, temporary business closures resulting in lost jobs, wages, and so on. 
Partners have responded by organizing grocery or food delivery for seniors; organizing hot meal preparation and delivery for seniors and individuals who have additional health concerns; providing food and other household essentials to residents in need; assembling healthy food boxes for pick up/delivery; and recruiting volunteers to help with all of the above. Multiple organizations are involved with all of the above, which again amplifies and emphasizes that we are all in this together and the health of ourselves depends on the health of our neighbors. Partners leading these efforts will be highlighted in future Partner Spotlight and Moments of the Month posts.
The network of HCP-MV also provides us with an opportunity to store and share these stories that exemplify the power and strength of our community's resilience and relationships. Many have remarked that we are living through what will become a chapter in a history book. This narrative should not only highlight the numerous challenges and losses communities experienced. The story of this time should also lift up the compassion and re-imagining of what community means and how people live and work together. Communities across the country and the world have a unique opportunity to re-envision what "normal" looks or feels like, how systems work, what policies should be enacted, and so on.
Lastly, members  of HCP-MV have been engaged in advocacy work already, but HCP-MV is currently creating a policy framework to better focus our efforts and communicate desired policy outcomes to appropriate decisions makers. The COVID-19 pandemic has provided an unanticipated, unique opportunity to have conversations about policy in ways we wouldn't have thought possible. We've seen policy change happen almost literally overnight to allow Ohio SNAP recipients to use their benefits for online ordering at grocery stores, designating low-wage workers (many in various parts of the food system) as members of the "essential workforce," significant expansion of unemployment, calls for significant increased funding for public health, and so on. There are still significant gaps and opportunities to push further forward, especially with regard to improving health equity,  as well as the need to ensure that any progress made does not regress backwards. 
In addition to sharing the triumph of our community's response to this crisis, observing and sharing stories related to these changes will help efforts to prevent falling back into old mindsets, bad habits, and ways of doing things. As several people have pointed out, not everything that was "normal" is worth going back to. 
HCP's work and path forward in 2020 has been changed dramatically, like everyone else's. However, the core of our message, mission, and guiding principles has become amplified and even more important in these unprecedented, uncertain, and upending times. 
It's been difficult to find the bright spots at times. But, even during the darkest days, I find comfort in knowing, to paraphrase Dr. Seuss, another sage from my childhood, that there are so many leaders in our communities who care a whole awful lot, so things will get better, even though right now we feel fraught.
We are Mahoning Valley Together, even while we have to stay physically apart.