HCP-MV Moment of the Month: Victory at the Finish Line
 Funding Secured for Healthy Foods, Families, and Futures in Ohio Budget
What We Won in the Ohio Fiscal Year 2022-2023 Budget Cycle for the Partnership's Focus Areas
Active Transportation
$70 million annually for public transportation
Parks and Greenspaces
$500 million for brownfield remediation |commercial and residential demolition, revitalization efforts
Healthy Food Retail
$500,000 annually for Produce Perks nutrition incentives
Removal of the following harmful policies targeting families receiving SNAP benefits:

Requiring change reporting for SNAP participants.

 

Reinstating asset limits for SNAP participants.

 

Prohibiting the increase of initial eligibility for SNAP.

 

Mandating child support cooperation enforcement for SNAP recipients.
Pre-race Preface
Earlier this year, HCP reviewed and reiterated that budgets are moral documents and the importance of prioritizing policies that put people first.  
Just before the June 30 deadline, the 2022-2023 Ohio Biennium Budget was signed, sealed, and delivered, so it's time to reflect, rest, and renew our commitment to what's next. 
Proposing and passing public policy has been compared to a lot of things. Legislators and lobbyists alike love to repeat this quotation attributed to German statesman, diplomat, and author,  Otto von Bismarck: "If you like laws and sausages, you should never watch either one being made." The sausage and legislation-making process can be messy, off-putting, unpleasant, unappetizing, and may even induce nausea.
But, as unpleasant as the process may be, paying close attention to policy making is crucial–even, and especially, when things get ugly.
Continuing with another less aggressive analogy:
"The marathon is not really about the marathon, it's about the shared struggle. And it's not only the marathon but the training."--Bill Buffum
When budget season began, we outlined policy priorities connected to each of HCP's focus areas that we would be tracking as the budget process pressed on. Now that the marathon has been completed–after many batons were passed back and forth, some added and dropped along the way–it's time to celebrate crossing the finish line and congratulate our teammates who cheered for and encouraged us along the way.
There were some segments where the hurdles looked impossible to overcome, but HCP didn't back down or give up. Our partners believe in the audacity of advocacy, which is exactly what led HCP and like-minded leaders across the state to victory on several key policy priorities.
As we shared in March when we celebrated funding restoration for public transit, it's important to take time to celebrate victories. Participating in policy advocacy is a marathon not a sprint, no doubt about it. Some segments move lighting fast, while others crawl on, even stalling at times. 
In addition to pacing, policy advocacy is marathon-like because it takes practice, patience, and perseverance to reach the finish line. The more we participate, the better and stronger we become. The more we participate, the more we will mourn losses, but we will also celebrate victories. 
Though this leg of the race was won in many respects, and partners are taking a well-earned, much needed breath, the marathon winds on.
Here are a few of the accomplishments HCP members helped to champion and are currently celebrating.
Active Transportation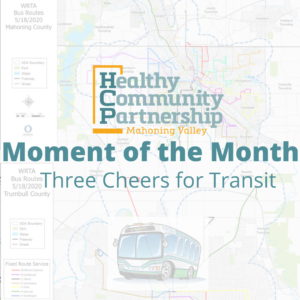 Each Biennium Budget Season kicks off with the race to fund transportation before a March 31 deadline. This year, the 2022-2023 transportation bill, HB 74, was successfully passed with bipartisan support and included funding for public transit restored to $70 million per year after a draconian 90% cut as presented in Governor DeWine's budget proposal. 
Several HCP members advocated to local legislators and leadership about the many significant benefits of funding public transportation, and we celebrated this early legislative victory with Three Cheers for Transit.
Parks and Greenspaces
Much like the rollercoaster ride with funding for public transit, HCP members were pleased to see that resources for brownfield revitalization made it past the finish line.
As shared by the Greater Ohio Policy Center:
The budget, passed earlier this week by the Ohio General Assembly and signed just before midnight by Governor Mike DeWine, includes $350 million in one-time spending for the clean-up, remediation, and revitalization of brownfields, as well as $150 million for the demolition of vacant and abandoned commercial and residential sites around the state by county landbanks.

Under the newly enacted budget, each of Ohio's 88 counties will receive $1 million which can be spent in the next year on the remediation of brownfields, and a further $500,000 for the demolition of commercial and residential buildings and the revitalization of surrounding properties on sites that are not brownfields. The remaining funds for both programs ($262M for brownfields, $106M for demolition) will be awarded to projects on a first-come, first-serve basis.
The Mahoning Valley is home to two of the state's top-performing land banks, so these resources will be put to good use before the ink can dry on Governor DeWine's signature.
Healthy Food Retail
Perhaps the most exciting results came in at the last second before the budget buzzer regarding provisions that would make it easier–or more difficult–for families to access healthy, affordable foods.
We'll start with an update on the Produce Perks Midwest Nutrition Incentive request, which was mentioned in "Building a Healthy Budget" in March. Produce Perks and their partners, HCP included, were successful in securing $500,000 per year ($1 million total) to sustain and expand nutrition incentive programs like Double Up. This doubled the amount secured in the SFY 2021-2022 budget, $250,000 per year.
Bringing this home to show the connection between Columbus and the Valley, in 2020, over 5,000 Mahoning Valley residents have used the Produce Perks program at participating locations, generating $99,714 in healthy food purchases by SNAP and P-EBT customers, of which more than $100,000 were made using Produce Perks matching dollars. With the 100% increase in the SFY 2022-2023 budget, the amount of Produce Perks available for Valley retailers will increase from $100,000 in 2020 to $175,000 in 2021. 
These additional resources will support the expansion from 13 retailers to 18, including the introduction of nutrition incentives into community stores, by the end of this calendar year.
This is an example of the impressive return on investment when philanthropy supports advocacy. The Western Reserve and Trumbull Memorial Health Foundations' combined investment of $20,000 towards Produce Perks Midwest's advocacy efforts resulted in securing $500,000 per year in state resources and an immediate $75,000 increase in local support for this year. 
The author is admittedly not a finance professional, but based on even a novice's reading of the numbers, this seems like a more than respectable result.
There is a bit of bad news in the world of nutrition incentives–Produce Perks Midwest's request for $350,000 for the Infant Vitality Produce Prescription Program was not included in the SFY 2022-2023 budget. Hopefully other sources of support will be identified to continue the program.
Now, for the dramatic climax and resolution.
At almost literally the 11th hour, several dangerous provisions from Senate Bill 17 were inserted into budget language. These provisions were connected to and impacted eligibility for the Supplemental Nutrition Assistance Program (SNAP) target low-income and underpaid Ohioans, who already experience far too many barriers to the health and wellbeing of themselves and their families, which have been made at least a magnitude worse during the pandemic. 
The provisions that were slated for inclusion are outlined below:
Requiring change reporting for SNAP participants.

No other state does this because it forces workers with fluctuating wages to jump through constant hoops to maintain basic federal food assistance.

Reinstating asset limits for SNAP participants.

Workers need cars to get to work. Seniors and workers should be encouraged to build modest savings for emergencies and retirement. Instead, this measure punishes people for trying to get ahead.

Prohibiting the increase of initial eligibility for SNAP.

This is the only way the state can address the benefit cliff that discourages workers from climbing the career ladder.

Mandating child support cooperation enforcement for SNAP recipients.

Ohio already has a high child support cooperation rate and this would deter victims of domestic violence from accessing SNAP for their families.
Members of HCP took this as a cue to pick up the pace and push ourselves to move as quickly as we could to remove these harmful, dangerous policies that threatened the health and wellbeing of Ohio families and possibly would undercut the positive impact of the increase in Produce Perks.
Over the Juneteenth weekend, HCP members and community partners collected 1000 signatures on postcards in opposition to the SB 17 provisions that were sent, along with a follow up letter, to members of the Ohio Budget Conference Committee. 
Members also signed on to letters circulated by statewide partners like Advocates for Ohio's Future and Policy Matters Ohio to make sure that legislators–locally and elsewhere–knew that HCP and many in the Mahoning Valley stand with Ohio families and support policies that increase access to healthy foods rather than pile on more restrictions. 
Supporting policies that support SNAP makes sense, and it makes cents. As we reminded policy makers, SNAP puts food on the table and money into local economies. More than 1.5 million Ohioans use SNAP, including nearly 32,000 in the Mahoning Valley, which gives families a modest lifeline to shop for the food they need. This lifeline for families also provides significant economic benefits to our local economies: for every $1 spent with SNAP, $1.73 flows into the economy In the Mahoning Valley, residents spend approximately $100,000,000 in SNAP funds on groceries at local retailers. Access to these dollars are important to both the consumers and the small businesses, from ranchers to retailers.
All people deserve healthy foods, especially as communities continue to recover from a global pandemic. Public programs like SNAP are the strongest lifelines to ensure our neighbors have the support they need. During a time when 737,000 Ohioans didn't have enough to eat throughout the week, 1 in 5 Ohio kids are living in poverty, and 13% of Ohio seniors experience food insecurity, Ohio should be looking for ways to support struggling residents rather than create even more barriers.
Fortunately, the dramatic climax of the budget saga resulted in a happy ending. All of the SB 17 SNAP restrictions were eliminated by the budget that Governor DeWine signed on June 30. There are still several very concerning issues that were kept in the budget, but on the food and families front, we made it.
Rest. Reflect. What's next? Go!
What YOU Can Do
If you are impacted by any of these issues–SPOLIER ALERT: we all are–consider sharing your time, talents, and treasures with any of the following organizations who are working to create a healthier Ohio:
Make sure you, your co-workers, friends, family, Door Dash Driver, mail carrier, etc. are register to vote and that everyone votes in every election.
Get to know your decision makers. Become familiar with your local city council/township trustees; state representatives and senators; federal representatives and senators. Attend pubic meetings, ask questions, write emails, make phone calls about the issues that matter to you.
Change becomes reality when we work together, cheer for each other, and fight for everyone to win.